"Fantasy Puppet Theater" was founded by Marshall Katzman, who received his M.A. in Television and Radio production from the University of Michigan and was a Fellow at Princeton University. "Fantasy Puppet Theater" is a member of Union Internationale De La Marionette, Puppeteers of America, The Puppetry Guild of Greater New York, The Garden State Puppetry Guild and is listed in the 2nd edition of Who's Who in Entertainment. Katzman is an Emeritus Professor of Communications at Bergen Community College, in Paramus, New Jersey.
In 1956, at the age of eight, Marshall Katzman and his puppets first appeared in Zurich, Switzerland with a backyard performance of "Sleeping Beauty". In the early sixties, while living in Closter, New Jersey, he was influenced by Russian puppeteer Sergei Obratsov as well as Frank Paris, creator of the original Howdy Doody and Larry Berthelson, creator of the Pickwick Puppet Theater. Katzman was mentored by Marcel Jovine, the award-winning toy designer, sculptor and designer of coins. Richard Hunt, the Muppeteer on Sesame Street, started his career in puppetry after purchasing a collection of puppets from Katzman. The New York World's Fair of 1965, saw Katzman perform a puppet production written by the world renown Sergei Obratsov. In the summer of 1973 "Fantasy Puppet Theater" made its debut with Rock-A-Day Johnny, a Rock and Roll puppet, at The Ark in Ann Arbor, Michigan. The one man troupe then began a tour of the United States, which included performances for museums, nightclubs, libraries, camps, major armed forces installations like Fort Knox as well as recreation departments in Charleston, Columbus,
Miami, Nashville, and San Francisco. Fantasy Puppet Theater has also conducted puppet workshops and performances at Appel Farm Arts & Music Center. In 1986 Marshall Katzman produced a television documentary, "Stars on Strings": a tribute to Frank Paris the creator of the first Howdy Doody. "Stars On Strings" is available for rental from the Puppeteers of America A.V. Library.
"Stars on Strings", "Not Just Puppets" and "An Evening of Puppetry" have all been included in the Theater on Film and Tape Archives of the Billy Rose Theater
Collection, Lincoln Center. The American Film Institute awarded his production of "The Three Billy Goats Gruff" finalist for fiction in their 1990 Visions of U.S. video competition. On October 6th, 1990 Katzman performed Sergei Obratsov's short puppet play entitled,
"Mortal Danger" at the Bruno Walter Theater, Lincoln Center. "Nick's Boogie to Nowhere", was awarded first place at the Festival Internacional de Video da Algarve, on December 5, 1992, and by The National Broadcasting Society, on March 18, 1994.
"Fantasy Puppet Theater" has received funding from the New York State Council on the Arts and Con Edison. The one man show has also made regular appearances at the
nationally acclaimed Puppet Playhouse in New York City. Katzman's past puppet
productions have included: "Around the World in 80 Days", "Jack and the Beanstalk",
"Rip Van Winkle", "The Legend of Sleepy Hollow", "The King's Stilts", "Little
Red Riding Hood", "Aladdin's Lamp", "Hansel and Gretel", "The Frog Prince",
"Rumpelstiltskin" and the "Shoemaker and the Elves". Fantasy Puppet Theater
performed "Mortal Danger" as part of the "Rituals" production at the Laboratory Theater in Paramus, New Jersey. Fantasy Puppet Theater  presented "Humpty Trumpty" as part of the SOLD OUT 2017 La MaMa Puppet Slam.
Puppeteer and theater artist Jane Catherine Shaw curated a two-night puppet slam featuring contemporary short-form puppet and object theater from both emerging and veteran puppet artists.
This puppet cabaret, challenges artists to make their best short-form work and to bring a variety of puppet forms to audiences. Shaw is co-founder of the Voice 4 Vision Puppet Festival.
"But He Was Cool, or: he even stopped for green lights" was featured at the exhibition UNI…WHAT? UNIMA! 90 Years | 100 Countries | 1 Passion held from 25th of May to the 26th of June, 2019 in the Gallery of the Czech Centres in Prague.
www.puppets.cz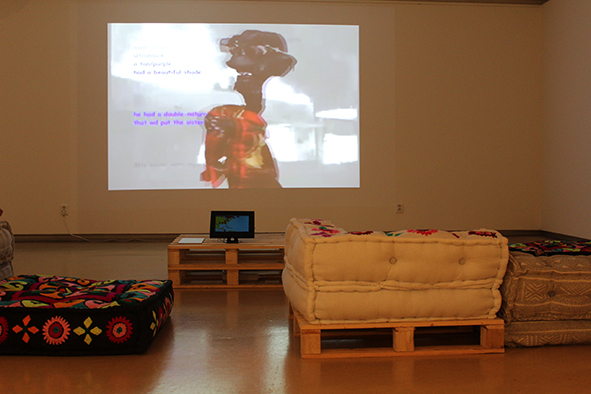 "But He Was Cool, or: he even stopped for green lights" at the National Museum of Puppetry Arts Břetislavova 74, 537 60 Chrudim
Fantasy Puppet Theater in The New York Times, Sunday, December 27, 1987
"Fantasy Puppet Theater" A

Registered Business In The

State of New Jersey
Since 1956!
Puppeteer For All Ages
Children's Birthday Parties, Schools, Libraries, Camps and Organizations!
Now Booking Puppet Shows For Metropolitan New York and New Jersey!